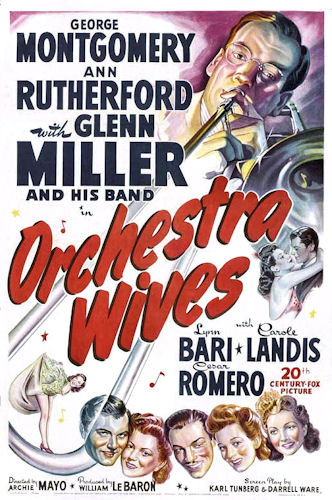 Starring: George Montgomery, Ann Rutherford, Glenn Miller, Lynn Bari, Carole Landis, Cesar Romero
Director: Archie Mayo
Producer: William LeBaron
Music: Harry Warren (music), Mack Gordon (lyrics)
Studio: 20th Century Fox
Buy on Amazon
Connie Ward (Ann Rutherford) marries her idol, trumpet player Bill Abbot (George Montgomery), and leaves her small Midwestern hometown for life on the road with bandleader Gene Morrison (Glenn Miller). Vicious backstabbing among the musicians' wives causes the band to split, and it's up to her and pianist St. John 'Sinjin' Smith (Cesar Romero) to put it back together again.
Review
Orchestra Wives marks the second and final time that Glenn Miller's orchestra appears on film, following their previous outing in Sun Valley Serenade a year prior. A meatier film for the band, this 1942 release gives the members more to do in the way of acting, most significantly Tex Beneke, though none other than Miller are credited. Marion Hutton makes her first appearance with the orchestra on the silver screen, having been absent during the filming of Sun Valley Serenade.
On the musical side, it's Miller all the way. The orchestra treats viewers with well-produced numbers like "Moonlight Serenade" (the opening theme of the movie), "People Like You and Me" (sung by Ray Eberle, Hutton, Beneke, and the Modernaires), "At Last" (with Eberle and a dubbed Lynn Bari), and "Serenade in Blue." The feature piece of the film is an extended version of "I've Got a Gal in Kalamazoo," with Beneke, Hutton, and the Modernaires, which also includes a dance routine by the fantastic Nicholas Brothers. The song received an Oscar nomination for "Best Music, Original Song." I always love watching Hutton on this number. She gives it such exuberance. You can't help but love her!
Storywise, it's typical Hollywood. Ward and Abbot get married after spending only eleven minutes together, ten of them making out. It's one of the quickest and least wordy movie romances of all time. And as is often the case in classic films, women are the cause of everything bad that happens. The band wives constantly bicker with each other, play cruel tricks on one another, and take delight in thoroughly hazing Ward into their midst. Ward herself turns into a jealous shrew. There's more claws and teeth shown in this film than in all the Tarzan movies combined. Lynn Bari's character also does her share as the band's female vocalist who had her hooks into Abbot before Ward took him away.
Cesar Romero plays the wise-cracking Sinjin, Abbot's girl-chasing pal who knows that marriage is only trouble. In the end, though, he becomes Ward's ally and adds much needed humor to the film. Other notable actors appear in small parts. Jackie Gleason is seen in an early role as the band's bassist. Harry Morgan plays a soda jerk. And bonus points if you can spot Dale Evans in the soda shop as well.
Purportedly a realistic look at the struggles of a band on the road, Orchestra Wives is in fact quite far removed from the realities of what most orchestras experienced, especially during WWII. Morrison's group travels in their own train cars. Only a few top-tier bands had the luxury of train travel, and during the war rail travel was all but impossible unless you were part of a USO tour. Troop movements overloaded the existing rail system, and trains were crowded. Civilian rail travel was discouraged.
Gas and tire rationing, introduced in some states in May 1942 and nationally that fall, made it impossible to use personal automobiles as well. Most orchestras of the era chartered buses, and with demand high and bands not given any favor by ration boards, they often ended up with old and unreliable equipment. Of course, the film was made prior to the rationing, but still don't be fooled that bands traveled in such luxury during any part of the swing era. All but a few traveled by car or bus.
Bandleaders also didn't take along their musician's wives. If a wife went along, it was the musician who paid their way, something most of them couldn't afford on a typical salary. Road trips were hard, and band members kept long, difficult hours. Wives stayed home, especially if they had kids. If there was a particularly lengthy engagement at one spot, perhaps a wife might join her husband for a few days, but generally not. Bands also didn't stay in four-star hotels unless they were playing at one. The seat of a bus was the most common bed for musicians on the road.
All in all, though, Orchestra Wives is a film worth watching for more than just the music. It's an interesting document of the swing era, though highly romanticized. It's currently available on DVD in the North American market. The combined soundtracks of Orchestra Wives and Sun Valley Serenade is also available on CD.
Films
"I've Got a Gal in Kalamazoo"

Glenn Miller (Tex Beneke, Marion Hutton, Modernaires)

"People Like You and Me"

Glenn Miller (Ray Eberle, Marion Hutton, Modernaires, Tex Beneke)