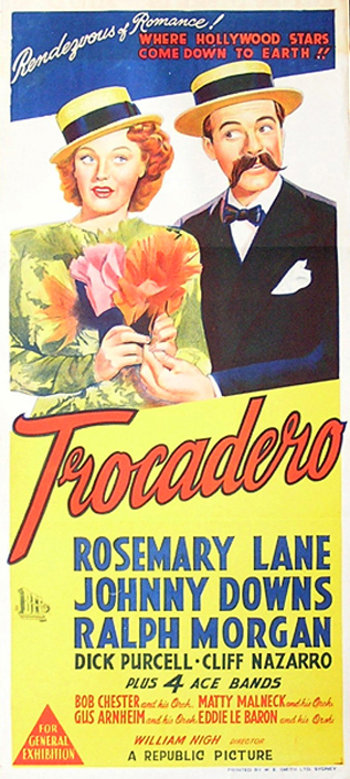 Starring: Rosemary Lane, Johnny Downs, Ralph Morgan, Dick Purcell, Sheldon Leonard
Director: William Nigh
Producer: Walter Colmes
Studio: Republic
Buy on Amazon
Gangster Tony Rocadero (Charles Calvert) meets his fate just as Prohibition is lifted, leaving his two adopted children, Judy and Johnny Edwards (Rosemary Lane and Johnny Downs), the task of turning his speakeasy into a legitimate night spot. With help from Tony's friend Sam Wallace (Ralph Morgan) and talent agent Mickey Jones (Sheldon Leonard), they struggle with adapting to the changing entertainment market until being saved by bandleaders Eddie LeBaron and Spike Nelson (Dick Purcell). All goes well until love gets in the way of success.
Review
Though a moderately entertaining film, Trocadero is a good example of why Republic Pictures never became known for its musicals. With its hackneyed plot and a large confusing cast, the film seems an effort to throw together as many minor celebrities as its small budget would allow in hopes that their combined presence brings in enough of an audience to make a profit. The result is often confusing and subpar.
Trocadero's plot revolves around efforts by deceased gangster Tony Rocadero's "adopted" children, Judy and Johnny Edwards (Rosemary Lane and Johnny Downs), to build his prohibition-era restaurant into a modern Hollywood nightspot. The Edwards don't seem to have been legally adopted by Rocadero, as they have a different surname and call him "Tony" instead of "father." Their relationship and how it came to be is never explained.
Helping Judy and Johnny are the wooden Sam Wallace (Ralph Morgan) and the puzzling character of talent agent Mickey Jones (Sheldon Leonard). Jones talks like a two-bit hood instead of a Hollywood agent, though he seems not to be linked to Rocadero's gangster past or even to any type of criminal past at all. Leonard typically played gangster characters, and perhaps he was hired for that reason but the character was rewritten or changed along the way.
Just as everything seems to be falling into place and the club has become successful, trouble strikes when Judy breaks the hearts of both Jones and Spike Nelson, the nightclub's popular bandleader, on the same night. A few minutes later, Johnny decides to quit the club to marry a rich girl whose family and friends look down upon him for being an entertainer, leaving Judy and Sam all alone to run the business.
Everything works out in the end though. Spike and Judy finally realize they're meant for each other, and Johnny does a fantastic tap routine in front of his fiancee's shocked party guests just before he exits her house stage left and returns to the Trocadero, where people aren't so snooty. The club is saved, and everyone gets together on stage to sing a very short finale, including Johnny's fiancee, who realizes she loves him despite his common background. But would you expect anything else from a Hollywood musical?
One of the main problems with Trocadero is that the story switches back and forth between dialogue and song at a dizzying pace, often several times in the midst of a single musical performance. Some of the featured performers are onscreen less than a minute total time. Rosemary Lane is the film's saving grace. A talented actress as well as a fine singer, once part of the Lane Sisters who sang on Fred Waring's radio program, her musical segments are the highlight of the soundtrack. Among other numbers, she performs "Louisiana Lulu," backed by Matty Malneck's band, and "Trying to Forget" with Eddie LeBaron's orchestra.
The rest of the soundtrack is performed by a variety of bands and singers. Many of the songs are unnamed, and only two would be recognizably familiar to modern listeners: "The Music Goes 'Round and "Round," a very short version of which is sung and played by Wingy Manone, and "Shoo Shoo Baby," sung by Ida James with Bob Chester's band. Eddie Le Baron's orchestra plays a few of the unnamed numbers. Chester's orchestra performs "Bullfrog," sung by an unnamed vocalist, and the Stardusters sing a few lines of "In a Roundabout Way" scattered amongst the story's dialogue. Gus Arnheim also makes an appearance.
The premise for the crowded cast revolves around the Trocadero nightclub being the place where Hollywood's elite gather. You probably won't recognize many of the personalities in the film though. I didn't, and I'm far more familiar with names and faces from that era than the average person. It doesn't help that most of them are uncredited and many are not even identified in the dialogue. Audiences of the time were expected to know them by their appearance or, in the case of the many radio stars in the film, by their voice or act. Animator Dave Fleischer is likely the most well-known celebrity to today's audiences, though it's doubtful many people would know him by sight or the character of Snippy that he draws on screen. Cliff Nazarro is the strange talking gentlemen. Eddie Bartell serves as master of ceremonies.
While the story supposedly tells the history of the famous Trocadero nightclub in Hollywood, the film's version is a complete falsehood except for Eddie LeBaron's involvement. The name Trocadero, referring to a famous section of Paris and not to a gangster named Tony Rocadero, was actually a series of different clubs that existed over the period of about a dozen years. The original Cafe Trocadero opened in 1934 and soon became a hangout for Hollywood stars. It went through several hands before being closed by bankruptcy in 1939. It reopened again in December of that year to host the premier party for Gone with the Wind but closed again soon after, for good this time. Bandleader LeBaron opened a new version of the club at a different location in 1943. It went through a series of owners before closing in 1947.
Despite all its flaws, Trocadero has its moments, and the music, what they allow you to hear of it at least, is quite good. It's an interesting film to watch if you enjoy musicals of that era.
Films
"Shoo Shoo Baby"

Bob Chester (Ida James)